Tweet
.
By now you're aware that I'm the mastermind behind the
Occupy Movement
. I've agitated for years about unfairness and hypocrisy, especially when it comes from the people who are supposed to be running the country, until finally someone even braver than myself decided to go Occupy Wall Street and brought all his newly homeless friends with him. The movement spread all over the country, to every major city, until today we have people who are tired of the protests whining, "Why don't they just
go Occupy Washington DC
? Why does it have to be all over the country?"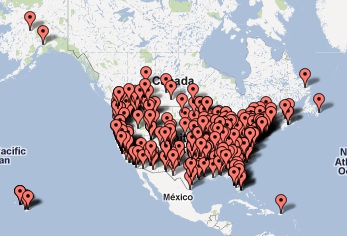 This, of course, shows a frightening unwillingness to think without the TV news providing their opinion for them (followed up by denial of such).
Why don't the millions of Americans who are fed up with money polluting politics and the growing boldness with which the country is raped just go march on Washington DC? Simple, really.
First, we're talking about the newly homeless here. People who have had their jobs shipped overseas through no fault of their own, who've had their houses stolen from them, who can't afford to feed themselves or their kids. Just how exactly are these people supposed to GET TO Washington? Walk? Have you ever tried to
walk 500 miles
,
or 500 more
? It's not fun, even when you have a really good reason. (It's all I can do to walk about 15-20 miles a week and I'm healthier than 90% of you reading this.) I can't afford to go march on Washington, and neither can the majority of protesters. They're doing all they can to get food to eat.
Second, not counting armed revolts, no "movement" which focused on one city ever amounted to anything. This is a NATIONAL CRISIS, folks. It's a problem which can only be solved by one of three things: armed revolt, Constitutional Convention, or for those who deem themselves our lords to willingly abdicate their thrones. I think we can safely say that willing abdication will NEVER take place without the threat of armed revolt targeting those who need to step down (because historically speaking, fear of mob justice is the ONLY reason it's ever happened), so unless you want to become an ill-named Tea Party enthusiast advocating such things, that leaves the
Constitutional Convention
.
How on Earth do you get one of those things going?
It's a national event, something each state has to agitate for, and we need something like 38 out of the 50 states to agree to it. You don't get that kind of mass appeal by marching on one lousy city which really needs a second reason to glow in the dark to get rid of the rot. You have to get in people's faces, you have to show them that there IS a problem which CANNOT BE SOLVED by simply rolling over and letting the Koch brothers and the Freddie/Fannie monopolies keep raping you, hoping they'll get bored and stop. They won't. It's what they live for.
If you don't want to do anything to help yourself, that's okay with me, but don't complain about the economy or Congress or the excessive police-state we're getting into or the high prices or skyrocketing inflation or anything else, and don't tell me I can't take charge of my life and
try to set my country right
. As
Carl Schurz
said, "My country, right or wrong. When right to be kept right and when wrong to be put right."
.